Chain Link Fencing
Chain Link Fencing Is One Of The Most All-around And Cost Effective Options For Commercial And Residential Consumers.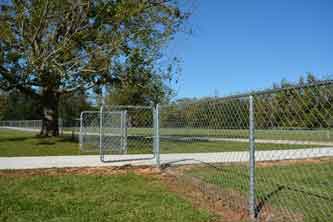 Due to its ability to withstand gale force winds chain link fencing is sometimes called hurricane fencing or cyclone fencing. This strength and durability comes from the basic fencing material design of woven, inter-locking steel wire and then fastening this fencing material to steel posts that are cemented into the ground.
Uses of Chain Link Fencing:
Safety

- Chain link fencing is an exceptional alternative for play areas and parks. It provides a strong reliable boundry yet allows unobstructed views of children, animals and hazards.

Security

– Chain link fence is frequently used as a secure barrier around business's, construction job sites and residential homes. Depending on the purpose of the fencing different can be used and further deterrents can be incorporated, such as barbed wire across the top will prevent climbing. Chain link fencing also permits unobstructed visibility to both sides which may be a neccessary characteristic for some specific security applications.

Pet Containment

– Chain link fencing is an exceptionally durable product that is very effective for constructing dog kennels and other pet containment areas. Chain link fencing is used as a pet containment area in public dog parks to separate and create different play areas for different dogs.

Temporary Use

– Chain link fencing can be easily moved between locations by pulling the steel posts out of the ground and rolling up the wire fencing. This is usually done mostly on job sites and at industrial facilities and is very cost-effective avoiding waste.
Low-Cost Purchase and Installation
The initial cost of chain link fencing is certainly one of the lowest and most economical fencing products available and is a lot less difficult to install than numerous other styles of fencing. This means that it will cost less to buy and have it installed than wood, stone, brick, PVC or many other types of fencing.
Long-Lasting Durability
Chain link fence is made from galvanized steel which provides it with the ability to withstand the elements of weather and day to day use for many years. To provide even more protection galvanized steel can also be coated with a vinyl compound or even painted.
Easy Maintenance
There will be very little maintenance required fo chain link fences. All that may be needed is an occasional wash depending on the sorrounding environment. To clean simply use soap and water or just using a garden hose to rinse it off will bring back its original luster and appearance. It is not neccesary to stain or paint a galvanized steel fence unless you just want to add some color.
Easy Repair
Damaged areas of chain link fencing can be easily cut out and replaced. Any new patchs or replaced areas will always match with the older fencing because of the duarability and shine retention of the galvanized material. THis is cost-effective because only the specific damaged area will need replacement.
Vinyl Coated Chain Link Fence
Vinyl coated chain link fence is a galvanized chain link fence where the chain links are coated and sealed with vinyl or polyester. This shields the metal fence from possible damage or excessive wear and significantly increases its durability. Vinyl coating additionally comes in several different colors, which means you will not have to paint your fence. There are several styles of vinyl fencing available, these include glued and bonded, thermally fused or extruded vinyl.