Livestock Fencing
To Choose The Correct Livestock Fence For Your Animals Several Factors Must Be Considered.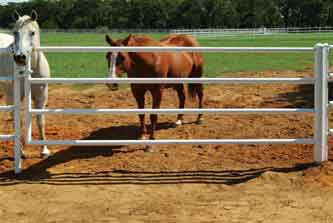 To choose the right Livestock Fencing several factors must be considered such as what species of animal needs to be contained, how old will the animals be, will there be any specific breed requirements or characteristics and how does the animal reproduce. Some other factors which can influence the selection process are cost, maintenance and upkeep, durability, and the fences degree of effectiveness to contain the animals.
Horse Fencing
Horse Fencing needs to be highly visible so the animals will readily recognize the fence and not run into it and risk the chance of injury. The Wood Rail Fence utilizing wooden posts and horizontal boards has proven to be a popular type of Horse Fencing. These types of fences provide excellent and highly visible border lines but they also may require a lot of maintenance and can be expensive to construct. Pipe fencing is another great choice, highly visible, durable and very low maintenance but once again can be costly to install.
Cattle Fencing
Barbed wire has always been a traditional choice for cattle fencing but can injure young calves and even older cattle if they become entangled. Some county codes actually prohibit the use of barbed wire as a livestock containment material. Woven wire is another common choice but lately high-tensile wire fencing has become more and more popular. These fences can be constructed in varying thickness of wire for strength requirements and also electrified which offers the most secure containment.
Hog Fencing
Most hog fencing will be constructed using Hog or Feedlot Panel fencing. The Hog Fencing panels will be constructed using heavy weight galvanized wire rods. These rods will crisscross and be welded at every junction. The horizontal runs of bar will be spaced wider at the top, usually about 6 inches and graduating to about 2 inches apart at the bottom. These panels are relatively easy to set up and provide a strong and effective barrier. Another wire type of fencing that is becoming popular is electrified high-tensile wire.
Goat Fencing
Goats can present a unique challenge to contain. These animals can find their way through any fence that is not properly constructed. Sheep and Goat Web Wire is a good option. This type of fence usually has a 4 inch by 4 inch mesh and serves to contain the younger kids as well.