Privacy Fences
Privacy Fencing Can Provide Privacy And Security Plus Comes In A Variety Of Styles To Choose From.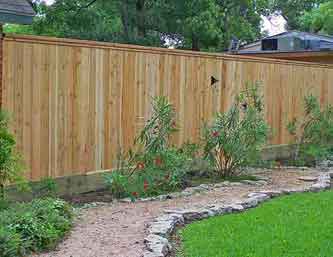 A privacy fence, as the name suggests, is most often used to insure your privacy. However, this fence also doubles up as a security cover, establish a boundary for your property and contributes to the natural appeal of the landscape. Prior to the building process of a privacy fence, you should to determine what functional goal it will provide. You may want to keep your neighbor's dog out of your property, or you may simply want to block the prevailing winds that destroy the flowers or vegetables in your garden. Your purpose of building it will make it easier for you to choose a privacy fence design.
Advantages of Privacy Fencing
A fence is also a practical improvement to your house because it provides you security as well as privacy. You will find there are lots of types of materials you can build a privacy fence with, such as wood, vinyl or wrought iron, plus a wide variety of designs with each type to fit your financial budget.
Privacy Fencing Requirements
Another thing you need to do before you begin to build a privacy fence is to crosscheck with the local authorities, since there are specific rules which restrict fencing of property in the United States. Similarly, you also need to make sure that you know the limits of your property. You do not want to build the complete fence, only to discover you have encroached on your neighbors property.
Type of Privacy Fence
Once you have gotten authorizations, you should determine the style of fence you want. Privacy fences range from basic wood fences, elaborate wrought iron ones, brick, stone plus many more options are available. If you are considering to build the fence using wood, make sure that the lumber is appropriate. If you use cured wood, it will certainly withstand the tough climate conditions and will not wear off easily. Also make certain that the wood is insect resistant and does not break down very easily. Cedar and pine wood are the most popular and preferred kinds of wood that can be used for building long lasting wooden fences.