PVC Fencing
PVC Fencing Has The Look Of Solid Wood Fences But With Improved Durability And Strength.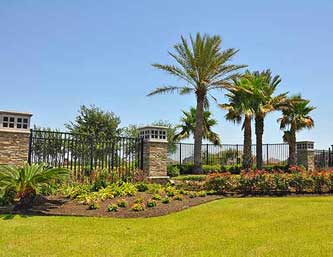 PVC fences are an exceptional alternative to wood fences, and they posses all the equivalent styles that a wooden fence can provide. They are made from PVC, and don't need upkeep for many years. They are durable, eye pleasing, are offered in a wide variety of designs, and offer protection as well as privacy.
Consumers are more attracted to utilizing vinyl in comparison to wood because of two factors, durability and light maintenance. An additional advantage of PVC vinyl fence is that as opposed to wood, PVC will not rot. It takes minimal to no upkeep at all because the paint stays on and remains attractive even after a number of years.
PVC vinyl fencing comes in many different styles such as contemporary, picket fence, split rail, or privacy and when properly installed they can be much stronger than metal and wood fences. Moreover, vinyl fences are available in many attractive colors. A wide assortment of fence ornaments and accessories are also available to complement the look of your PVC vinyl fence.
Some of the advantages of PVC fencing are you do not have to do any painting or staining. Also the vinyl will not rot or split and warp like wood tends to do. PVC PVC fences will not corrode or rust like metal fences. PVC fences will remain new looking for the lifetime of the fence. One other advantage of using PVC fences is that they can be cleaned very easily with basic soap and water.
One important thing to note is that PVC vinyl fences can be quite a bit more expensive than other types fences. However if you wish to take pleasure in your fence for a long time and not worry about high maintenance, then PVC vinyl fences will be your the best choice. They can turn out to be to be well worth the additional money you will spend.