Decorative Fencing
Decorative Fencing Is Often Used In Landscaping, Gardens And Yards And Can Serve To Provide Beauty And Functionality.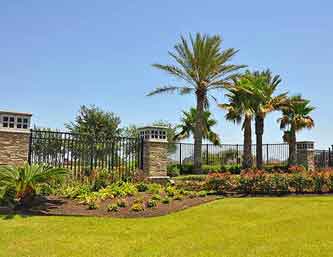 The decorative fence style can be entirely aesthetic such as a low picket fence around a pergola or it can also serve a useful purpose as well such as incorporating a touch of class by building an ornamental wrought iron type of fence around a pool that provides both beauty and security. One other example of dual functionality might be a garden fencing which can provide a unique ambiance and serve to protect plantings from wildlife and supply a structural aid for both soil and crop drainage.
Picket-style Fencing
A traditional white picket fence makes a pleasant improvement to any garden, especially when combined with a matching arbor and gate. A low fence such as this gives definition to the area, but still allows unobstructed views. This type of fencing provides quaint appeal most suitable for cottage-style homes and those with landscaping styles and designs depicting English garden themes. Picket-style fencing additionally comes in a wide array of styles of which the most popular are pointed top picket, French gothic picket, and the dog-ear picket.
Wrought Iron Fencing
Wrought iron fencing features the very best of both worlds. Traditional style and beauty coupled with strength and security. Wrought iron or mild steel fencing is virtually indestructible and will stand up to many years of traffic and abuse. Another benefit of a wrought iron style fence is the openness in design. This lends to an unobstructed view of beautiful landscaping and gardens.
Split-rail Wood Fencing
Homes with landscaping inspired by the Southwestern US design or of the ranch-style genre should find a good match with the split-rail wood style of fencing. This low-slung and rustic look adds to the overall beauty and appeal of a sprawling ranch style home.The best material for the split-rail style is the Western red cedar wood.
Log Wood Fencing
This style showcases the true magnificence of wood and best suits houses fashioned with a rustic theme. While most fences are set up as vertical panels, horizontal panels are also not unusual.
Other Decorative Fence Options
Consider using stone or brick pillars with wood rails or wrought iron panels for added definition and beauty. Match the brick or stone to the brick or stone used in your patio or on your house to tie various landscaping elements together. Be sure and place a cap on the brick or stone column such as a level piece of slate or concrete to shed water. You can also pick up a simple and traditional privacy fence by topping it with a contrasting panel, standard lattice panels or create a unique design by using panels framed in matching wood.